How to Get Custom Scarves Made
Updated April 22, 2019
This page contains links to products from one or more of our advertisers. We may receive compensation when you click on links to those products without additional cost to you.
Scarves are a fun year-round accessory and come in a variety of sizes and materials. We work with specialty printers so your designs can be printed all over the scarf, from hem to hem! Embroidered scarves where the design is sewn onto the scarf are also an option. Scarves are a popular accessory in the Fall and a unique gift for women on Mother's Day and other celebrations.
Types of Personalized Scarfs
Scarves come in square and rectangular shapes in a variety of sizes. The 16 x 16 inch square scarf is the smallest option and a nice neck scarf or decorative collar. The 24 x 24 inch size comes in poly jersey and is meant for bandanas. Square scarves also come in 26 by 26 or 36 by 36 inches. Rectangular scarves come in three sizes: 16 x 72, 10 x 45, 27 x 72, or 47 x 71 Inches.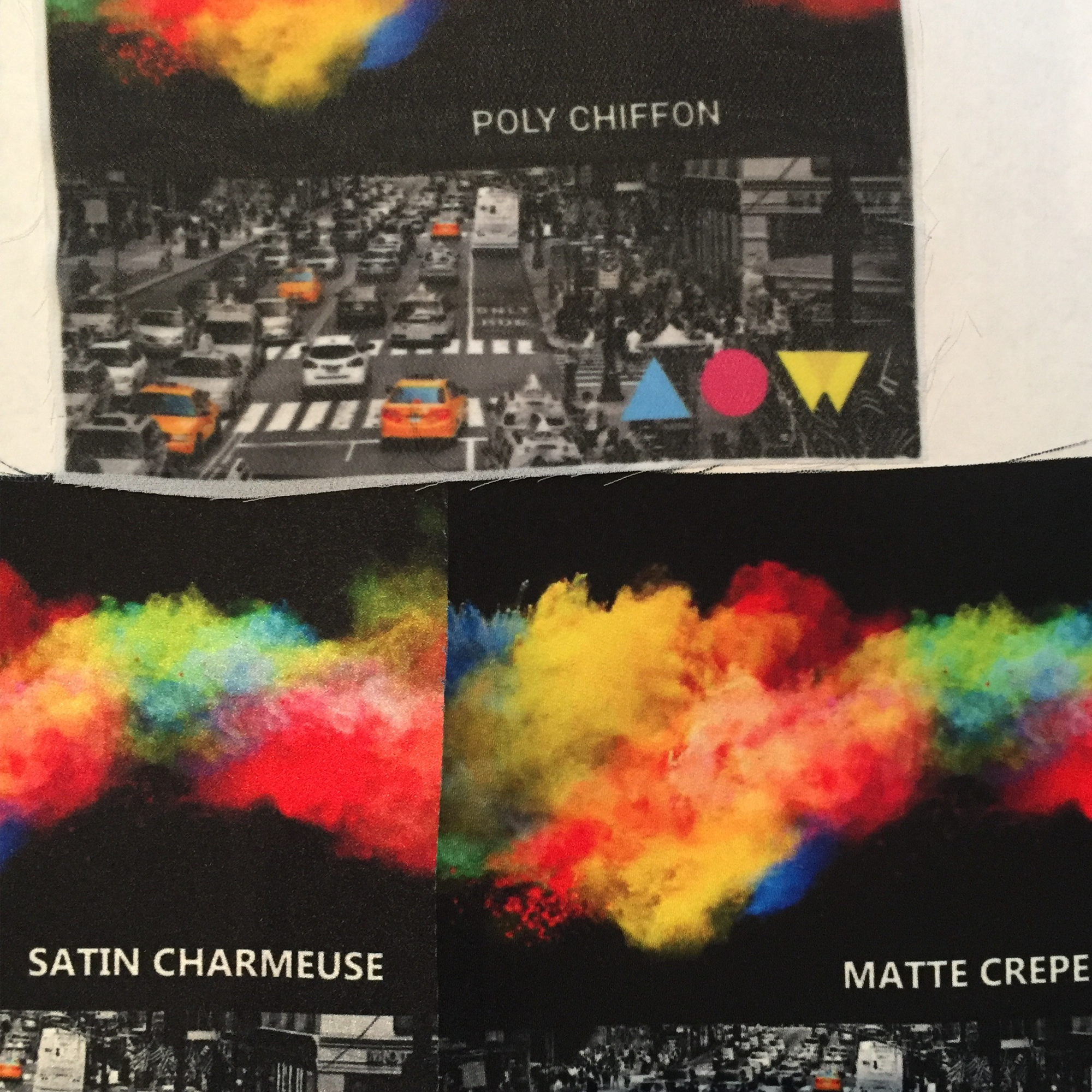 Scarf material choices include poly chiffon, satin charmeuse, matte crepe, sheer poly, poly/acrylic, and jersey poly. Depending on which fabric you choose, the print will be about 50-70% visible on the backside. Satin charmeuse is the closest to silk and has a smooth texture, shiny finish, and the lowest visibility from one side to the other. Matte crepe has slightly more visibility than satin charmeuse but has a non-shiny matte finish and is a lighter weight material. Poly chiffon and sheer poly are the lightest materials with the most visibility and is ideal for warmer months. Jersey poly is slightly heavier but still a lightweight material and is ideal for bandanas. Scarves made with poly chiffon, satin charmeuse, or matte crepe have a baby rolled machine-finished hem. Sheer poly scarves have a machine sewn hemline and poly/acrylic scarves are finished with tassels.
Custom Scarf with No Minimum Order Quantity
If you only need one scarf at a time, you can use a company like Zazzle to get a scarf made. If you are looking to sell scarves online, you can get scarves printed on demand. We work with Shopify integrations and apps such as Printful to get on demand merchandise made. For more information on print on demand through Shopify, get in touch below.
Custom Scarves with Volume Discounts
If you are ordering at least 12 custom scarves, you may have more flexibility in scarf styles to choose from and a lower price point. For example, our partners at Inkhead have a variety of acrylic scarves, custom scarfs with matching gloves, and embroidered scarves.
Get Custom Scarves Made
See our most popular custom scarf options and sell scarves online - read more on our custom scarves page.

Care Instructions
Poly/acrylic, sheer poly, and poly jersey scarves may be machine washed in cold water and tumbled dry on low. For poly chiffon, satin charmeuse, and matte crepe scarves, hand wash in cold water. Do not agitate. Lay flat to dry. The print on these materials may fade 5-10% the first wash. If your scarf feels stiff, mist it with water and tumble in a low heat dryer for 5-10 mins